Creating an online poll is easy. Share it with anyone you like. See results in under 2 minutes. Here's how to do it.
Creating an online poll is one of the fastest and best ways to find out what any group thinks about any topic.
You can choose a date or time to meet for your next event/meeting. You can decide what the best name is for your new product. Or you can finally find out the answer: is that dress gold or blue?!
From the whimsical to the deadly serious, online polls are powerful. And with doopoll they're also simple! You can start collecting answers in two minutes.
How to create a free online poll
Ready to get started? Here are the four quick things you'll need to do to create a free online poll.
Step 1 – Create a free account on doopoll
There are genuinely a heap of survey tools you can use to get started with for free. In fact, we're so confident that doopoll is the best option for you, that we reviewed a bunch of poll creator tools here.
doopoll is free to use until you get value out of it. When that happens, you can choose a paid plan that is significantly better value than other online survey and poll maker tools.
People who use doopoll also get 3-4x the number of responses to every poll question.
But here are some good reasons you should choose doopoll vs another survey software.
It can be configured for a wide variety of uses including customers satisfaction, employee engagement and live events
It has live voting functionality for audience engagement at your next event
It's easy to use so your employees will save time using it.
You'll want to be able to collaborate and have multiple users on your account. doopoll's pricing is the best for this.
Keeping your survey data in one place will help you cut down on the paperwork of ensuring your remain GDPR Compliant (We've also Cyber Essentials and IASME certified so you can be sure your data is safe)
But for now, just get started with a free account. Here's a link for you to do that 👇
Step 2 – Create a new poll from your dashboard
Once you've created your account on doopoll, creating a poll is simple.
You can choose to start from scratch if you know what poll question you want to ask, of if you want a helping hand, you can choose to create your quick poll with a template.
Note: You can add unlimited questions to your poll. We don't charge you per question like other tools do. You should be able to ask as more questions in live. Stay curious.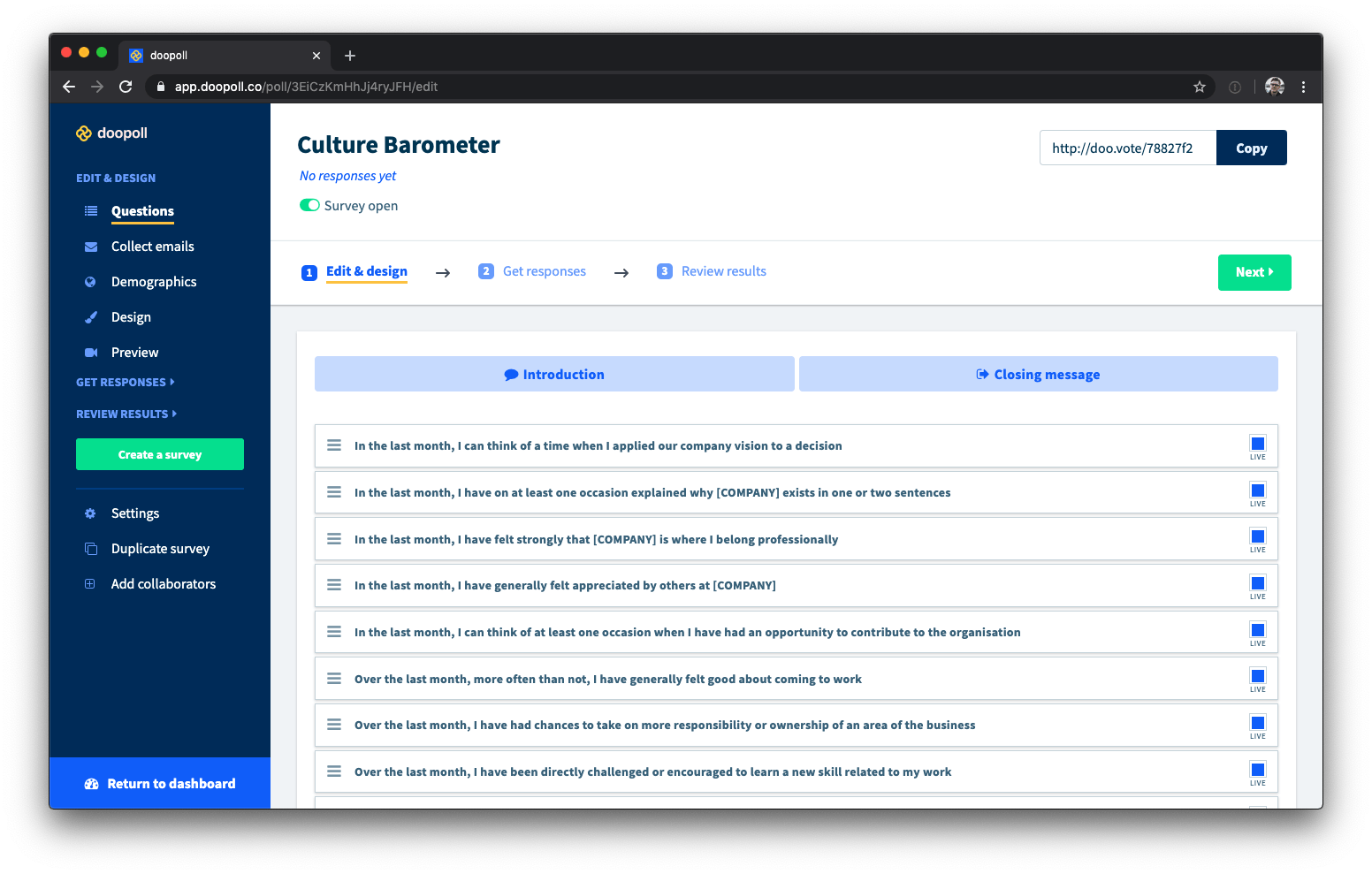 Step 3 – Add some quick questions
On doopoll, there are five question type and they're all aimed at helping you get brilliant poll results:
Yes/No questions – when you only need a dual answer option: apples and oranges, coke or pepsi. Whatever works for you. These are brilliant to use at the start of your voting poll to increase engagement.
Multiple choice – By far the most popular question type on doopoll is the multiple choice. It allows you to offer a series of options and have your participants add a single or multiple preferences. This is a really neat way of gathering public opinion as it's so well structured.
Single Slider – You know when the pollsters ask people a likert scale question (on a scale of 1-5 for example)? We think that for most cases (Net Promoter Score polls are an exception) that's probably the wrong choice. So we reinvented it. On doopoll you can use draggable sliders to find out how strongly your audience feel about your questions.
Multi Slider – This is a variation of the single slider. And you guessed it, this question type allows you to have multi sliders. If you've answered a matrix question type before, you'll be familiar with this. Only, this is so much easier to use.
Open Text – You can also get open text answers on doopoll if you want to give your audience a bit more space to contribute in the discussion. Here's something unique to doopoll: we also do real time sentiment analysis on your open text poll result. That means we'll be able to help you surface the emotions of your audience as well as what they tell you explicitly.
There's loads you can do with doopoll's question types.
Pro tip: Use the yes/no and multiple choice question type at the start of your poll and you'll see an increase in completion rates by your voters.
Poll templates? We've got 'em.
Sometimes you need a little help with thinking up the right poll question. So we've got a huge selection of poll templates that you can use.
Here's a selection of poll templates for pretty much anything you can imagine:
Templates for a customer satisfaction poll
Templates for gathering opinion at a charity or non profit
Asking student opinion on education?
Employees your target audience? Try these templates:
Instant feedback for events? Right this way:
Market Research? Here's templates for participants:
Polling your new recruits? These are for you:
Step 4 – Share your poll
When you've got your poll questions happy, send out your link to your audience.
On doopoll you can do this in a number of ways:
Send your audience an email inviting them to take part. We've even prewritten an email for you.
Generate a QR code that your voters can scan with their phones to take part. It's really neat to see this happen live.
Engage your audience in a social media poll – share directly from doopoll onto Twitter, Facebook and LinkedIn with predrafted messages to increase engagement.
Grab a short code and tell people to join you by going to doo.vote and entering your unique short code.
Or if none of that suits you, share the link with them directly however you prefer.
Your respondents can vote on any device they have right in the browser.
And you can choose to make it anonymous or collect email addresses.
How should I review my poll results?
Poll results come in in real time on doopoll. So don't forget to watch the results screen for your poll. Here's a link to that too.
Bada-bing-bada-boom – you're an expert pollster and your command of online polls is impressive. And it took you under two minutes.
If you can't think of any questions to ask, you can use our free expert written templates . There's something for everyone including customer satisfaction, employee engagement, post event feedback and more.
Where should I share my online polls?
There's a load of places you can share your poll.
Copy the link from your poll and paste it directly into a group chat on WhatsApp or attach it to a Snap on Snapchat.
Alternatively, post it in a Facebook group. doopoll is way better than Facebook polls because it allows you to add multiple questions. This works on LinkedIn, Twitter or anywhere else that you can post messages online.
One other thing we see lots of people do is send it directly by email to their customers or team mates. We have a built in tool for doing this. It's on your share screen.
For weird but fun reactions, get people to hold up a phone's camera to the QR code we generated for your poll. It will offer them to load the poll and you'll get answers in an instant.
Questions and answers about polls
You can create a poll on Facebook as long as you only need one question and you're OK with only posting it in one group.
Facebook polls are not currently available on your news feed – only on groups that you're a member of.
On the other hand, you can create a free doopoll account as outlined above ☝️ and then you can post it anywhere you please or as many places as you like.
But if you insist on doing a Facebook poll, here's the steps:
Open a group that you're part of and have posting rights on.
Write your question in the box that you'd normally use to post a message.
Select 'Poll' as the update type
Then enter a few options in the boxes below
You can add pictures if you like
You can see the results as they come in directly on your status.
Probably not. Twitter polls are pretty much the same as Facebook polls: you can only ask them in one place and once they're online, you're pretty much stuck with any data you might gather. It's not like Twitter's going to let you ask multiple questions and download.
Also, a lot of people just choose an option on a Twitter poll so that they can see the results. That means you won't really know if you're getting closer to the information you want.
Instead, create a free doopoll account and use our poll creator to publish a free poll. Then share the link directly to that on Twitter (or anywhere else you prefer).
Slack polls are interesting. There's so many ways to do this. Here are the three most common:
Use emoji reactions on a message to do this. Make the emoji be the options (i.e. :red light: = no, :green light: = yes – each time a person votes they'll increment the number and you'll see results live.
Use any one of the million Slack specific voting apps that are in the Slack App Directory. Heads up: most of these are only available in Slack – so you can only ask people who are in your workspace.
Follow the steps at the top of this article to create your free doopoll account and then post the link in Slack so that you can collect answers from your team, but also from anyone else who you want to send the link to.