In the tailwinds of this blog post which exploded onto the internet yesterday, and this one where we talked about moving to a pay-for-value model a little while ago, I'm happy to announce that we are making more of our features available to more people than ever before. 
Starting from today, we're making features that have been available only on our Super plans and our custom Enterprise plans more widely available. 
Tl;DR – paid plans on doopoll are now better value for money with more features available on each
Plus users get access to two all-star features
For example, the extremely popular Presenter view, which is made for displaying results on a big screen and has a huge impact on engagement when it's shown in a room of people, is now available customers on the Plus plan as well. 
That means that from £33 per month, you could be wowing attendees to your events and workshops with big screen results.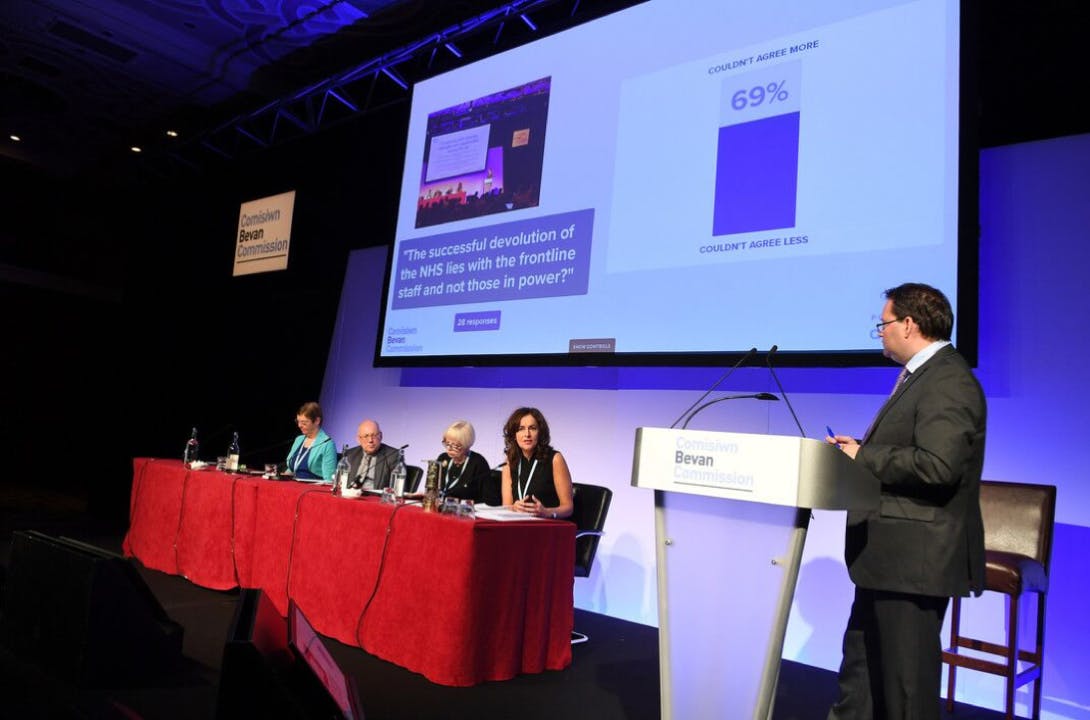 Above: The presenter screen in action. It looks amazing.
As well as that feature, Plus users will now be able to integrate with over 1500 other tools through our Zapier integration. Many of the products you use to run your business today will be able to be enriched through survey responses. 
Think: how good would it be if you could send your customers an NPS survey and segment them in your CRM by their responses? You'd be able to assign 'Promoters' to a custom marketing campaign. 
As well as all of those features, Plus users get: 
5 team members
250 responses per survey
Collect emails and build mailing lists
Add logo and branding to surveys
Export results from doopoll
Sentiment analysis in real time
[NEW] Big screen presentations
[NEW] Integrations
All this from only £33/mo on an annual plan or £40/mo on a month-to-month payment (cancel anytime)
Click here to choose this plan in your account
Super is more super than ever
Today we made repeatable surveys and single device surveys available for the first time on our Super plan (starting at £83 per month). These features were previously only available on Enterprise plans. 
Repeatable surveys are great for when you need to ask the same questions across: 
Time – if you run lots of workshops and want to compare attendee feedback for example e.g. 5 March 2020 – Workshop, 6 March 2020 – workshop
Place – if your business has many outlets and wants to understand how it's doing at each e.g. East location, West location, North location
Groups – perfect for companies that have different teams and want to do employee engagement measurement on each. e.g. Sales team, Support team, Ops team. 
The reporting features of this are wild. You can compare all these surveys on a single chart or drill down into groups. We have enterprise customers who made this feature the central tenet of their entire feedback strategy (case studies coming soon). 
And then Single Device Surveys allow you to collect multiple responses on the same device. 
We developed this feature originally for an enterprise customer who wanted to have a staff member survey people who were leaving their properties with an iPad. This is still the best use case. 
But it also works really well for Point of Sales feedback if you're running a physical store, ticket desk or cafe. 
As well as all of those features, Super users get: 
Ten team members
1000 responses per poll
Collect emails and build mailing lists
Add logo and branding to surveys
Export results from doopoll
Sentiment analysis in real time
Big screen presentations
Integrations
[NEW] Repeatable surveys
[NEW] Single device surveys
All this from only £83/mo on an annual plan or £100/mo on a month-to-month payment (cancel anytime)
FAQs
Answers to questions you may have
How does this effect my current plan? 
Everyone who is currently on a paid plan can continue as usual. There are no changes to your plan other than that we've automatically made the relevant new features available to you. 
If you want to upgrade to access additional features that have now been added to any tier, we'd fully welcome that and encourage you to do so (obviously). 
We have more in store that we'll be talking about across the next 12 months and I really think that we're going to be able to add a huge amount more value to you. 
Has the pricing changed? 
Nope – for the time being all of our packages will be the same price. You won't notice any changes in your billing until you upgrade to a new tier. 
Thank you for your support
I want to take this opportunity to say thank you for your support. It's hard to run a business – and as many of our customers are also business owners, I know this fact is part of your day to day. 
By choosing a paid plan on doopoll, you are helping us develop and grow the business. That means we can continue to develop as people but also to better help you face the growth and engagement challenges that you deal with day to day. 
My inbox is always open if you want to have a conversation about how we can support you better. Message me anytime on marc@doopoll.co 
I leave you with this classic track and hope it helps you remember all the good things in this blog post for the rest of your day ;)